About the Vancouver Retro Gaming Expo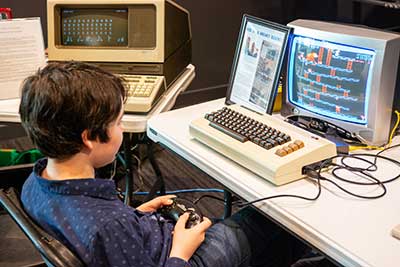 The Greater Vancouver Area has a large gaming community and a need for more large-scale community events. On March 17th 2012 we began with the 1st annual Vancouver Retro Gaming Expo. The event sold out at The Columbia Theatre and was a massive success. In 2016 (our 5th year) the Vancouver Retro Gaming Expo moved into the Anvil Centre, a bigger new venue that allowed for considerable growth in the following years. We currently occupy all available space in the Anvil Centre.
Modelled after similar events in other cities, we've taken the basics of: Vendors, Gaming, Panels, etc. and spiced it up a bit with a licensed venue, some awesome old-school musical performances, special guests, and other gaming themed entertainment unique to the Vancouver area. Every year we add fresh content, and we encourage the community to get involved and be part of the event.
The Vancouver Retro Gaming Expo is run by a team of dedicated volunteers organized by Phase 3 Events, owned by Brian Hughes of Gamedeals Video Games. It will run every year around June and will continue to be a single day event in order to keep the ticket prices low and the quality of the content at it's best. We've had a lot of fun in years past and look forward to many more years to come.