Saturday, June 25th 2022: 11:00am - 9:00pm at Anvil Centre
Quick Links Menu:
Vendor Hall and Artist Alley: Main Floor
A wide array of dealers selling video games, from local and out-of-town shops, flea market vendors, and independant collections, with a range of old & new games for both the budget conscious deal hunters to the collectors looking for the super rare favourites.
A variety of artists will also be on hand with various video game themed creations of all types and styles.
Unique collectibles, crazy deals, weird oddities, & much more.
(11:00am - 9:00pm)
Free-Play: Third Floor - Main Theatre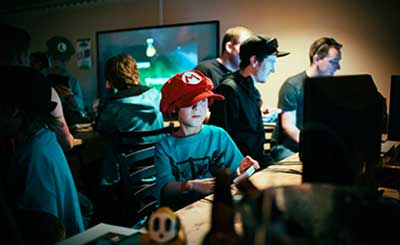 Plenty of video games from a variety of retro consoles, modern compilations of retro favourites, and a selection of popular older games. A wide selection of games that are easy to pick up and play, single and multi-player classics to fit every taste.
(11:00am - 9:00pm)
Musical Performances: Third Floor - Main Theatre (TBD)
| Time | Name | Description |
| --- | --- | --- |
| TBD | The Runaway Four & many more TBD... | Musical performance information coming soon. |
Panels: Fourth Floor (TBD)
| Time | Name | Description |
| --- | --- | --- |
| TBD | The Fictionals & many more TBD... | Panels & Guest information coming soon... |
Tournaments: Fourth Floor (TBD)
| Time | Name | Description |
| --- | --- | --- |
| TBD | Tournaments TBD... | Tournament information coming soon... |